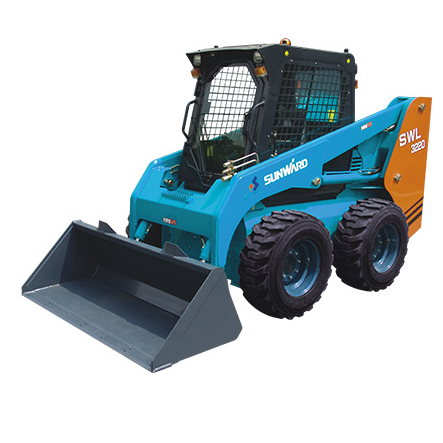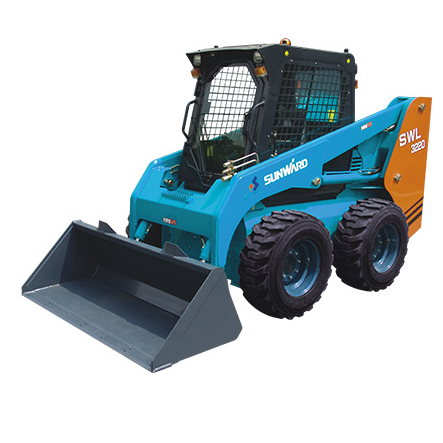 ---
Wheeled skid steer loader SWL3220
---
Dateils products descrpition
SWL skid steer loader is a new generation of small multi-function equipment integrating mechanics, electronics and hydraulics under the independent research and development of Sunward, with every performance index having reached the international advanced level. The machine features compact structure, flexible movement, convenient operation, efficient working, powerful function and simple maintenance. It is especially applicable to urban infrastructure, roads or construction sites, workshop, warehouse, dock, ship deck, even inside of cabin and other places with narrow space and frequently-changed operational contents. By changing different devices, it realizes the shoveling and carrying, lifting, digging, drilling, crushing, scraping, scarification, snow blowing, deicing, road sweeping, pavement milling, and compaction operation.
products descrpition
1. Innovative overall structure
The hydraulic oil tank, fuel tank and chassis are integrated together, saving more space and making the machine more robust.
2. Strong power system
It uses the international famous engine to ensure that the machine is capable of completing all kinds of work.
3. Vertical lifting mechanism
The unique lifting mechanism enables the machine to have further discharge distance.
4. Safe and comfortable working environment
The driver cab is capacious and has good view, which meets ROPS/FOPS. All instruments are installed in the place which can be easily seen in the front, all buttons and switches are within reach, and safety rail can prevent people from leaving the seat accidentally.
5. Higher lifting height
The optimized structure design enables the machine to have the greater lifting height among the similar models.
6. Multifunction
Various accessories can be replaced.
7. Convenient maintenance
Full consideration is given to the convenience of maintenance, and daily maintenance can be completed by opening the back cover. The driver cab can turn forward with large angle.
8. Easy operation
Pilot handle under proportional control is easily operated and labor-saving, allowing the operator to operate the machine quickly and not to feel fatigued.
Model
SWL3220
Dimension(L×B×H)
mm
3590X1830X2100
Working parameters
A
Max.operatingaltitude
mm
4020
B
Height tobucket hinge pin
mm
3123
C
Height to topof cab
mm
2100
D
Height to bottom of level bucket
mm
2950
E
Overalllength without attachment
mm
2750
F
Overalllength with standard bucket
mm
3590
G
Max.heightof the unloaded angle
°
43
H
Dumping height
mm
2395
J
Dumping reach
mm
625
K
Bucket onthe groud of the flip angle
°
30
L
Bucket atthe highest flip angle
°
93
M
Wheelbase
mm
1116
P
Ground clearance
mm
205
Q
Angle ofdeparture
°
27
R
Without the attachments before turning radius
mm
1300
S
Before turningradius
mm
2180
T
After turningradius
mm
1700
U
Tail length(rear axle to bumper)
mm
1062
V
Two tires(track) center distance
mm
1475
W
Bucket width
mm
1830
Total weight
kg
3350
Performance
Loading capacity
kg
1000
Tipping load
kg
2000
Bucket breakout forece lift
kg
2480
Boom breakout forece lift
kg
2430
Max.speed
Km/h
12.6